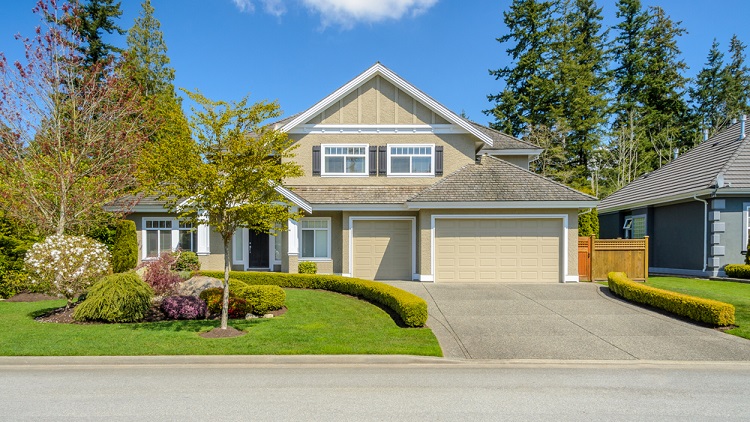 Modern American homes prioritize individuality and practicality and feature open floor plans for a spacious feel.
Technology is integral to these homes, enabling easy control of various home systems and devices.
Environmentally conscious features like solar panels and energy-efficient appliances have become a staple.
The modern kitchen serves as a hub designed for efficiency, aesthetic appeal, and social interaction.
Homes now include flexible spaces and water features for tranquility, catering to evolving lifestyle needs.
As times change, so do our preferences, needs, and lifestyles. And as we evolve, so does our concept of what makes a home beautiful, comfortable, and functional. The modern American home is no exception. Today's homeowners prioritize features that create a balance between practicality and style. Here's what you need to know about modern American homes, the elements that make them stand out, and why they are so popular.
American Homes Today
Currently, the country's homeownership rate is at around 66% and rising as more and more people choose to become homeowners. This has led to a shift in modern American homes' design, architecture, and features. Gone are the days of cookie-cutter houses with identical layouts and traditional furniture styles. Today's homes reflect individuality, personalization, and functionality. Here's what constitutes the design of modern American homes today:
1. Open Floor Plan
The open floor plan is an influential feature of modern American homes. More and more homeowners are embracing open design concepts that allow spaces to flow seamlessly into one another. Traditionally, homes had separate rooms that limited natural light and caused rooms to feel small and cramped.
On the other hand, an open floor plan appears spacious, allows natural light to penetrate, encourages socialization, and provides flexibility with furniture placement. With an open floor plan, the kitchen, living room, and dining area become one cohesive space that brings the family together.
2. Technology
Technology has permeated every aspect of our lives, and our homes aren't an exception. A modern American home has a robust tech infrastructure that enables easy and convenient control of various systems and devices. Smart home technology can remotely control the thermostat, lighting, security systems, and more. For example, a homeowner can access security cameras from their smartphone or dim the lights using voice control. Home entertainment has also evolved, with high-end audio and video systems providing immersive home theatre experiences.
3. Environmentally Conscious Features
Environmentally conscious features have become a staple in modern American homes. Eco-friendly features such as solar panels, energy-efficient appliances, and HVAC systems make homes sustainable, reduce greenhouse gas emissions, and lower utility bills. By installing these green features, you can help preserve the environment and save yourself money in the long run. As the world becomes more conscious of the need for conservation, these features become more popular.
4. Modern Kitchen
The kitchen is the hub of any modern home. It's where families come together to prepare and enjoy meals, socialize, and entertain guests. Today's homeowners want sleek, stylish, functional, and easy-to-maintain kitchens. Custom cabinets, stainless steel appliances, and granite countertops are standard features in modern kitchens. The modern kitchen also includes islands, open shelving, and smart appliances. These features enable efficient meal preparation, provide ample storage, and create an aesthetic appeal.
5. Flexible Space
The modern American home is designed to accommodate ever-changing household needs. A flexible space can serve different functions depending on the occasion. A guest bedroom can double up as a home office or a gym. Similarly, a living room can be a home theatre, playroom, or workspace. This versatility ensures that homeowners can make the most of every space available.
6. Water Features
One of the recent additions to modern American home design is incorporating water features. This trend has been greatly influenced by the need to create tranquil and relaxing spaces within homes. One of the best options for water features is beautiful water walls. These can be installed in the living room, bedroom, or backyard to add a sense of serenity and luxury. Some homeowners also opt for indoor swimming pools or hot tubs for recreation and relaxation.
How to Make These Additions Affordable
While modern American homes come with all these exciting features but can also be expensive, it's important to find ways to make these additions affordable and accessible for homeowners of different budgets. Here are some tips:
Start small: You don't have to implement all the features simultaneously. Start with the most important ones to you and build up from there.
Shop around: Look for deals, compare prices, and negotiate with suppliers to get the best price for materials and furniture.
Consider DIY projects: Simple DIY projects such as painting walls or installing shelves can save you money on labor costs.
Prioritize energy efficiency: Invest in energy-efficient appliances and systems to save money on utility bills in the long run.
Take advantage of tax breaks and incentives: Many states offer tax breaks or incentives for installing eco-friendly features in your home, so research before making these additions.
By implementing these tips, you can make your dream of a modern American home a reality without breaking the bank. Ultimately, what matters most is creating a comfortable and functional space that reflects your style and meets your family's needs. With the ever-changing trends in home design, staying open-minded and prioritizing features that will bring joy and convenience to your daily life is essential.