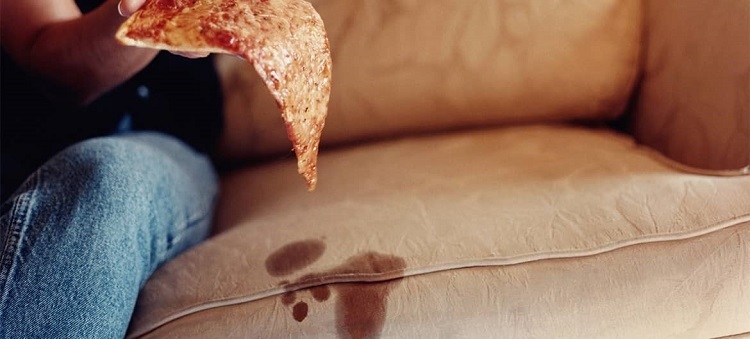 Periodic cleaning of sofas usually involves removing accumulated dust from the upholstery and furniture body, so the cleaning process takes no more than 10 minutes. However, if there are stains on the furniture, then removing them makes cleaning the sofas a real torment. Competent selection and search for suitable cleaning products take too much time. Therefore, many people turn to cleaners and order professional cleaning of furniture and sofas https://hardrockcleaning.com/chicago/house-cleaning/furniture/.
However, with due diligence, you can get rid of stains (or at lea st make them less noticeable) on your own. Next, we will tell you how to do this in order to achieve the best possible result without damaging the upholstery and the base of the furniture being processed.
Basic rules for cleaning sofas from stains
The probability of removing a fatty spot depends on the speed of response to its appearance. Fat is absorbed very quickly, so cleaning the sofa should be done immediately after an unpleasant incident. Otherwise, the fat will saturate the upholstery, significantly worsening its condition and significantly complicating the process of subsequent dry cleaning.
Therefore, if grease gets on the upholstery of furniture, it is necessary to immediately prevent the penetration of contamination into the thickness of the fabric. We recommend that you immediately sprinkle a fresh stain with some kind of absorbent – for example, salt, soda, starch or flour. Any of these mixtures will absorb some of the fat, preventing it from penetrating deep into the tissues. If the stain is small, the absorbent can be cleaned off after one hour. If large, then after 4-5 hours.
The mixture must be removed carefully with a dry cloth. Moisture is not allowed. The last crumbs of absorbent must be removed with a vacuum cleaner. Nothing should remain on the surface of the furniture. If the stain remains (or has existed for a long time), then it is advisable to proceed with a deeper dry cleaning or simply call cleaners who clean the sofas on a regular basis.
Cleaning sofas upholstered in silk, jacquard and cotton fabrics
These products are cleaned from stains only with the right choice of consumables and proper processing. If you buy or make the wrong cleaning agent, the fabric will quickly discolor. Also, noticeable stains can form on the surface.
To clean sofas from the above materials, it is better to use professional products or at least a high-quality alcohol solution. When choosing the latter option, you first need to create a solution (alcohol with water 1 to 1), moisten several cotton pads in it and cover the surface of the stain. After 10 minutes, you need to gently rub the stain and collect the remaining moisture with ordinary dry wipes.
Cleaning sofas with chenille and flock upholstery
These materials are quite durable and unpretentious in care. Yes, and fading is not typical for them. But cleaning sofas with such upholstery must be done carefully. If there is a large contaminated area, it is advisable to test the selected product on a small fragment, and then apply it to the remaining stains.
To clean flock and chenille sofas, you can use different products. However, the most effective option is to use a solution of ammonia. It is necessary to apply the product strictly with gloves – with open windows. The very process of cleaning sofas consists of two consecutive steps – applying a cloth soaked in a solution to the stain and then blotting the contaminated area with a dry cloth. After several cycles, you need to wait for drying and gently walk over the surface with a soft, dry brush.
Cleaning leather sofas
The skin is not particularly afraid of fat, because it remains on the surface and can be easily removed with a soft cloth. Therefore, it is clearly not necessary to panic when fat gets on leather upholstery. It is enough to remove the contamination and (for prevention) degrease the upholstery with a low concentration lemon solution. After processing, the remaining solution must be removed with a napkin.
Cleaning sofas using professional consumables
We do not recommend using folk remedies for cleaning sofas. If possible, be sure to buy specialized solutions for dry cleaning upholstered furniture, giving preference to European-made consumables. When doing this, be sure to take into account the characteristics of the materials from which the upholstery is made.
And if you do not want to take risks, then contact the professional cleaning company https://hardrockcleaning.com/chicago/ and order the cleaning of sofas. This approach will allow you to get a guaranteed result with an adequate investment of time and finances.